Gillette's New Ad On Toxic Masculinity Is Breathtaking — And Necessary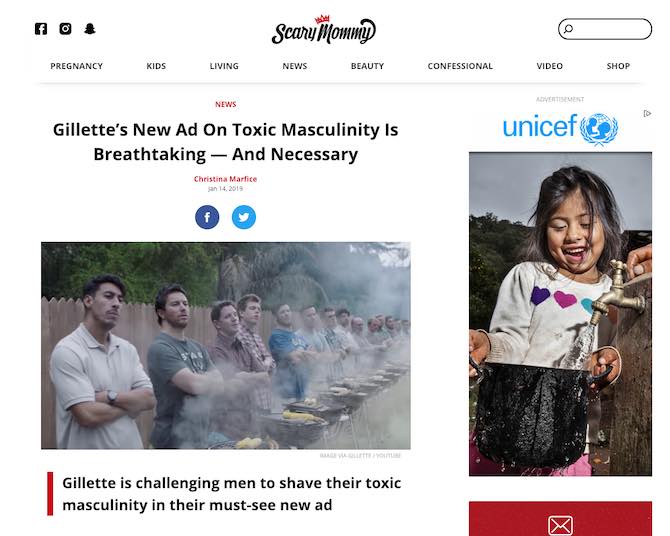 I had a chance to watch the new Gillette Ad on Toxic masculinity. It is really good. I liked this article on the video from the Scary Mommy blog.
I also think that as we deconstruct toxic masculinity we need more teaching, and discussion on what regular masculinity looks like. Anything that starts this discussion is great to see.
The #MeToo movement has opened a lot of conversations about the way men treat women. We know it's up to men to change their behavior, but women have been saying that for generations. We need men to hold other men accountable. Enter Gillette's powerful new ad that asks them to do exactly that.
The ad, targeted at men and called "We Believe," begins with audio of news about the #MeToo movement. A narrator then takes on the common phrase, "boys will be boys," asking, "It this the best a man can get? Is it? We can't hide from it. It has gone on far too long. We can't laugh it off, making the same old excuses."
The commercial depicts men stepping in to stop their brethren from catcalling and telling women to smile. It shows a father breaking up a fight between two little boys at a BBQ instead of letting them "be boys" and another dad fending off bullies from a little boy while his small son watches intently. It shows a mother cradling her bullied son as vile text messages from his tormentors are shown.



Click here for the article. The link to the video is on this article as well as copied below.