We Can't Ignore This Silent Crisis In Men's Mental Health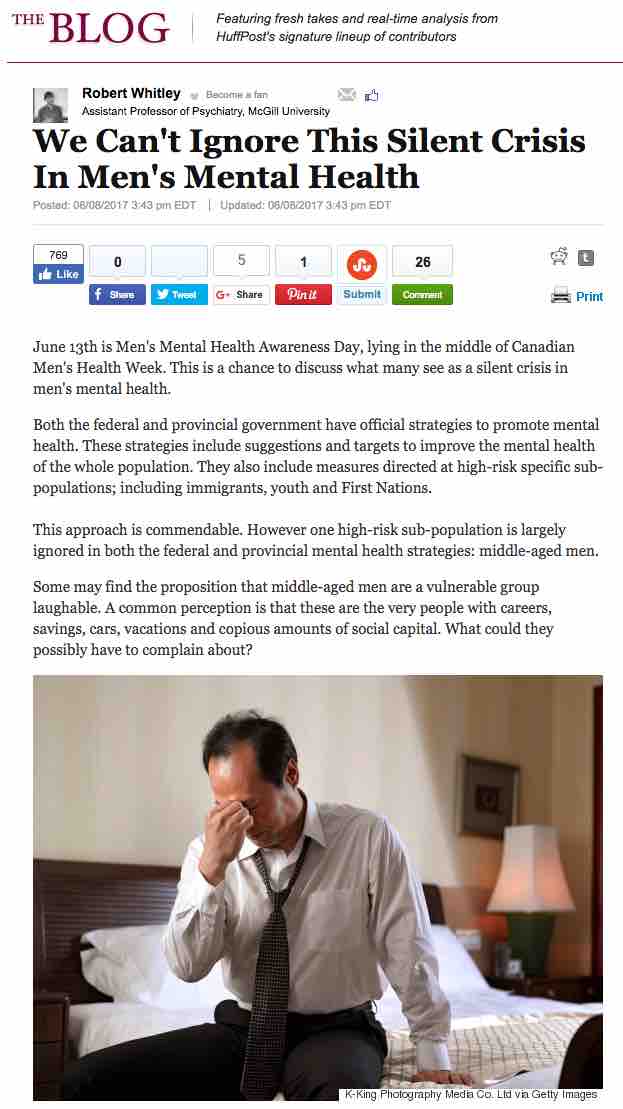 Important conversations. Please read.
Around 80 per cent of suicides in Canada are carried out by men, with men aged 40-60 having the highest rates. Likewise rates of substance use disorder are very high in this demographic, outnumbering women by a rate of three to one. Moreover, some research suggests that depression is elevated in this group. But this is under-reported due to diagnostic bias, where clinicians perceive depression as a "woman's illness," and act accordingly.

All this could be due to various factors.

Firstly, traditionally male industries such as manufacturing, forestry and fishing have declined precipitously. This has left many middle-aged men (especially in rural areas) unemployed or under-employed; leaving them without pride, meaning and purpose in life.

Secondly, research suggests that middle-aged men experience divorce and separation particularly hard. This can be a painful process, with men often losing their children, savings, friends, home and reputation. Indeed, a recent Canadian study shows poor mental health in this group.

Thirdly, there are few specific statutory services targeted to helping middle-aged men. For example a recent Statistics Canada report noted that there were 627 shelters for abused women and zero for abused men, even though men make up around 50 per cent of abuse victims.
Please click here for the entire article.