Going Public: Your Child Can Thrive in Public School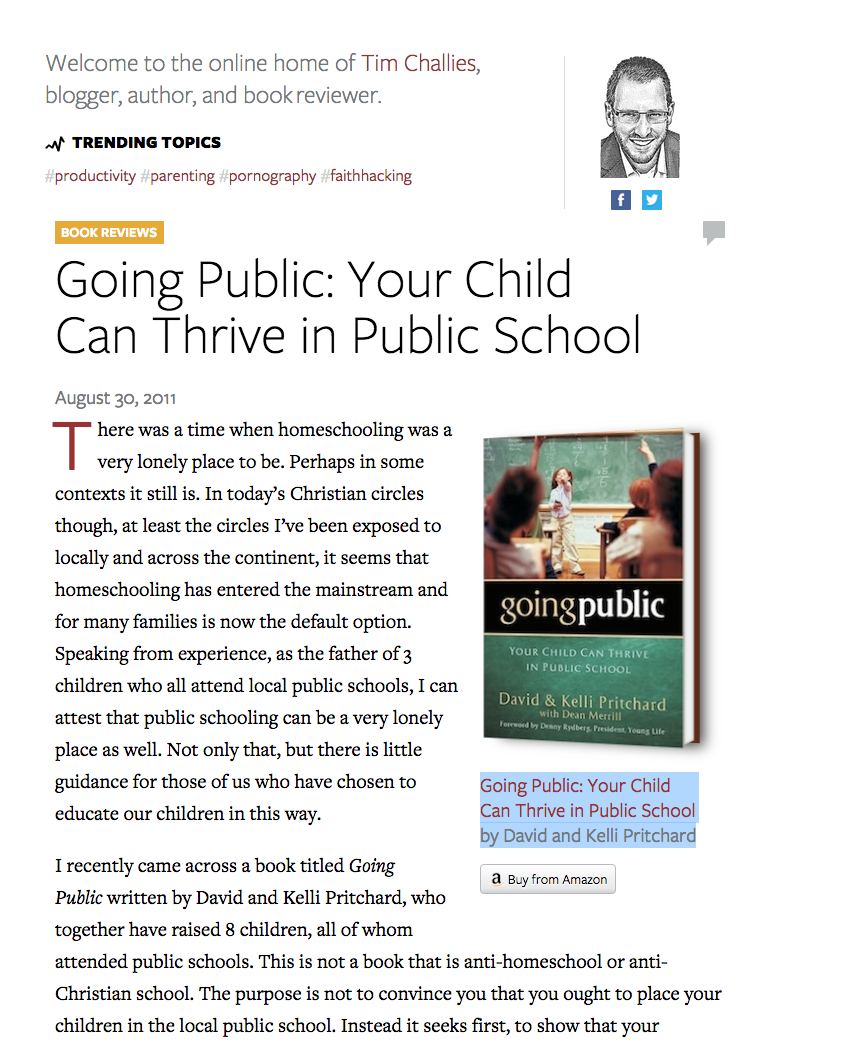 This past summer I had 10 emails from people asking me if I was "pulling my kids" from the public school board due to the new sex education curriculum. My answer was always no. I have nothing against any of the forms of education (Public School, Catholic School, Private Christian School or Home Schooling) I always say the same thing to parents. I want successful kids. I have seen kids succeed in each of these forms of education and I have seen kids fail miserably in the same forms. For me and my family we have chosen Public Education. Presently Zoe is in Grade 8 and Ben is in Grade 7 in the Public School system. My father was a Principal, my mom a school secretary, my sister a teacher and my brother-in-law a principal, and I also taught in the public board for 10 years. Many of my friends are also teachers and administrators in the public board.
Last week I received this blog from Tim Challies on how your kids can thrive on Public Education. I thought it was a very well written article so I thought I would share it.  He makes some great points.
I recently came across a book titled Going Public written by David and Kelli Pritchard, who together have raised 8 children, all of whom attended public schools. This is not a book that is anti-homeschool or anti-Christian school. The purpose is not to convince you that you ought to place your children in the local public school. Instead it seeks first, to show that your children can thrive at public school and second, to provide a parent's field guide for helping them do just that. In this way it fills an important niche.

The most valuable lesson of all, at least in my view, is that public schooling is a family affair. The decision to place children in the public education system is a decision to have the whole family involved in this system. They say, "We should not think in terms of sending our child off by himself to 'the mission field.' We go there together. This is a family expedition. When we show up each August to enroll our kids for another school year, we are enrolling our family into the life of this institution. This is a joint venture." This means that mom and dad are involved not just with the children, but with the school and teachers and leaders.

A second valuable lesson is that is the lesson that all parents are homeschoolers. The Pritchards make it clear that public schooling still calls for the parents to teach their children and to be involved in all that they learn. No good parent can abdicate all of the children's education to other people.
I would challenge you to read the article. As Tim says this is not a debate on where we as Christian families send our kids. The book that he wrote this blog from is one for us who have chosen to send out kids to the public system. It is meant to encourage and to challenge us as parents. Click here for a link on Amazon.ca to the book "Going Public: Your Child Can Thrive in Public School"
Love to hear any thoughts. This is NOT a debate on the new sex education curriculum or a debate on homeschooling vs public schooling vs private Christian schooling.
Please click here for the blog.