Guest Blog: Kingdom Bound Music Festival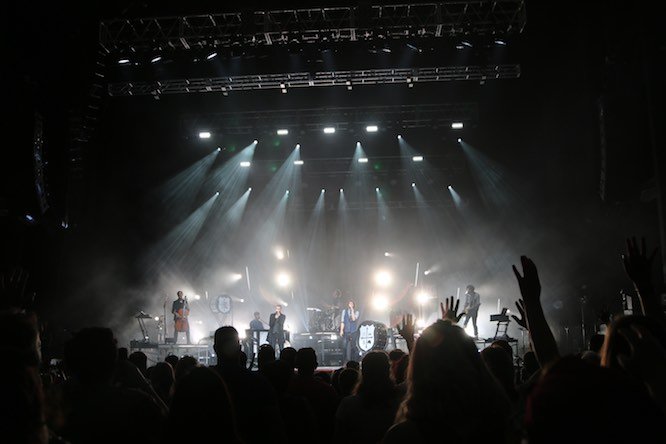 Thanks to Brett for letting me take a quick minute to share with you about Kingdom Bound 2017 – Western NY's largest and longest running Christian music festival. We're thrilled to have Brett returning to the festival this year! We (along with thousands of others) have been so blessed by his ministry.
Have you ever been to Kingdom Bound? For those of you who have never been please read on so I can share just a little taste of what this festival is all about.
We believe that Kingdom Bound is for EVERYONE!  We think of this festival as a full-family experience.  Anyone/everyone infancy to senior adulthood enjoys these 4 jam-packed days at Kingdom Bound.  We have large youth groups from churches and charity organizations with us each day (and overnight) as well as families that choose Kingdom Bound as their event/vacation of the summer.
So what is Kingdom Bound? We're a 4-day Christian Music and Arts Festival at Darien Lake Amusement Park in Darien Center, NY. This year's dates are July 26-29th.  Darien Lake is a full-experience park complete with thrill rides (6 great Roller Coasters) and a very large water park.  We also "take over" all of Darien Lake's accommodations, which include a 160-room hotel, dozens of cabins and rentable RV's and a campsite that features over 400 water & electric sites.  It's a HUGE undertaking that features over 60 bands and speakers at multiple stages across the park, including a 25,000 capacity Live Nation venue.  Over 40 thousand tickets are sold annually to this event over the 4 days.
In addition to all the great music and speakers one of the things that most excites me about the festival is our special offerings for teens and families. AWAKEN, our new youth program geared to high school and college students launched last year at Kingdom Bound to great success with 100s of students participating. We're expecting 2017 to be even bigger and better. The morning will begin with breakfast (on-grounds guests only), followed by worship and a morning keynote message. Interactive games will follow and the morning will close with break-out sessions for students and leadership. This was a transformative experience for many students last year and we fully expect God to be at work in this year's group as well.
In addition to this we have a Kids Tent each day for kids 4-8, and our AMPED TENT for tweens 9-13. These are great places for families with younger children to let their kids experience the excitement of Kingdom Bound in a special (secure) environment created just for them.
Kingdom Bound has so much to offer for everyone and ultimately that's our goal. We believe that these 4 days have the potential to be life transforming for so many of those who attend. Year after year we hear stories of the way that God has worked through the festival. Broken families healed, suicides averted, addictions overcome, churches united, meeting needs of dozens of ministries, and so much more! Please join us this year and together let's discover all that God has for us!
For more information, please visit www.KingdomBound.org or connect with us on Facebook at www.Facebook.com/kingdomboundministry