Christian Parenting Should Involve More than Influencing Your Kids' Faith Walk
I had the chance to do a sponsored guest post on Sheila Gregoire's To Love Honor and Vacuum site.
After one of my talks five years ago, I had a conversation with a father, which was the catalyst for creating my most recent book, Parenting: Navigating Everything.

I had just finished speaking on mental health, and a father asked me, "Brett, how do I talk to my daughter about sex"?

This is an important question, as you followers of Sheila's well know, but before I could answer, he blurted out, "Oh, by the way… she hates me".

In asking him, "what do you mean she hates you" he interrupted and said, "forget about that, how do I talk to her about sex?".

I said, "if she hates you, you don't have the relationship foundation to impact her about this topic." He needed to start making repairs to their relationship first.

It occurred to me on my drive home that the presentations I do on challenging issues like mental health, parenting, media, dating, sex and pornography were all impactful–but parents needed teaching about parenting foundations first.
Please don't get hung up on the word Christian parenting. We can call this parenting as Christians or any other version you like. The idea is that we do look at parenting through the lens of the Christian faith. The reality is parenting styles, good communication, spending time together as a family, discipline and other topics are areas all parents need to think about.
Click the link below to check it out. If you are unfamiliar with Sheila's work I would encourage you to subscribe to her podcast and daily blogs. Great content.
https://tolovehonorandvacuum.com/2021/08/christian-parenting-should-involve-more-than-influencing-your-kids-faith-walk/
Links to buy my book Parenting: Navigating Everything – Click Here.
Here is a link to Sheila's new book as well. The Great Sex Rescue: The Lies You've Been Taught and How to Recover What God Intended. Click Here!
Below is a promotional video for the book as well. Enjoy.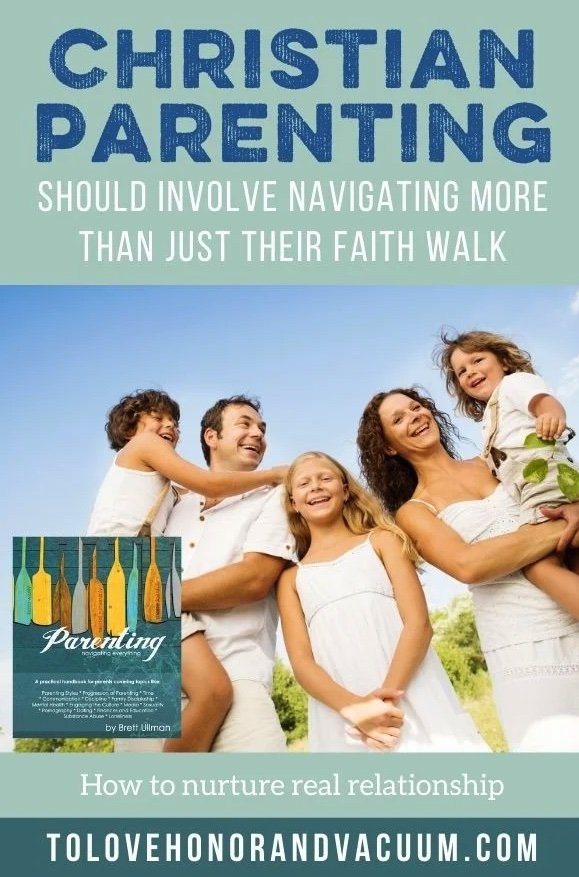 DISCLAIMER: This description contains affiliate links, which means that if you click on one of the product links, I'll receive a small commission. This helps support the channel and allows us to continue to make videos like this. Thank you for your support!