Sherry Turkle: Connected, but alone?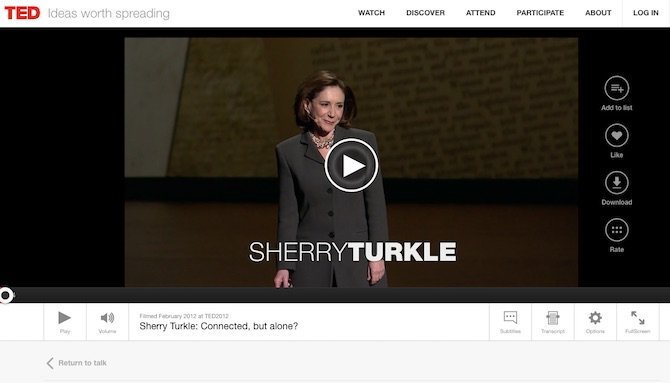 One of the best TED talks I have heard in years. Please take a few minutes to watch this.
So just to take some quick examples: People text or do email during corporate board meetings. They text and shop and go on Facebook during classes, during presentations, actually during all meetings. People talk to me about the important new skill of making eye contact while you're texting. People explain to me that it's hard, but that it can be done. Parents text and do email at breakfast and at dinner while their children complain about not having their parents' full attention. But then these same children deny each other their full attention. This is a recent shot of my daughter and her friends being together while not being together. And we even text at funerals. I study this. We remove ourselves from our grief or from our revery and we go into our phones.

When I ask people "What's wrong with having a conversation?" People say, "I'll tell you what's wrong with having a conversation. It takes place in real time and you can't control what you're going to say." So that's the bottom line. Texting, email, posting, all of these things let us present the self as we want to be.We get to edit, and that means we get to delete, and that means we get to retouch, the face, the voice, the flesh, the body — not too little, not too much, just right.

How do you get from connection to isolation? You end up isolated if you don't cultivate the capacity for solitude, the ability to be separate, to gather yourself. Solitude is where you find yourself so that you can reach out to other people and form real attachments. When we don't have the capacity for solitude, we turn to other people in order to feel less anxious or in order to feel alive. When this happens, we're not able to appreciate who they are. It's as though we're using them as spare parts to support our fragile sense of self. We slip into thinking that always being connected is going to make us feel less alone. But we're at risk, because actually it's the opposite that's true. If we're not able to be alone, we're going to be more lonely. And if we don't teach our children to be alone, they're only going to know how to be lonely.

There's plenty of timefor us to reconsider how we use it, how we build it. I'm not suggesting that we turn away from our devices, just that we develop a more self-aware relationship with them, with each other and with ourselves.