What if talking to your daughter about sex didn't have to be terrifying? Amazing Sex talk course for parents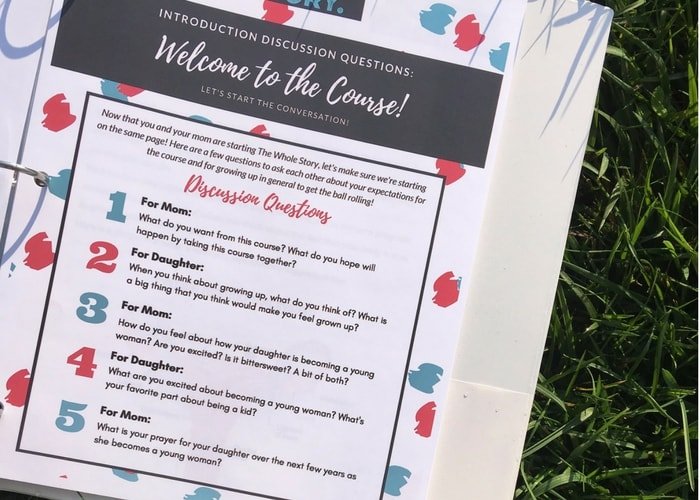 This would be one of my favourite sex talk courses for parents. I have been speaking on the topic of sex for almost 2 decades. My talk Parenting: Navigating Everything goes into more detail on this topic. One of the most asked questions I get is "how do I actually have this conversation?" I finally found a resource I can get behind in this area. If you do not know Sheila Wray Gregoire she is a blogger and a podcaster. You check out her information here – https://tolovehonorandvacuum.com/
Sheila and her 2 daughters created a course called The Whole Story. It is:
An online, video-based course for moms and daughters about sex, puberty, and growing up.
Comes in two age groups: One for daughters 10-12, and one for daughters 13-15.
The videos are led by "young adult" mentors who feel like "funny big sisters". (They're 20 & 22 and have their own ministries!)
Then checklists, discussion questions, and mother-daughter activity ideas help moms and girls solidify the information and continue the conversation.
Important thoughts on this course:
It's not a REPLACEMENT for moms. It's a RESOURCE that can help start these conversations.
Let us START the conversation – so that moms can keep those conversations going!
Your kids will learn about all of this in school. Let's make sure that they hear it from a safe source first!
Talking about sex with your daughters can be scary. Let us take the fear out of it, and make it way less awkward!
An indispensable resource for single dads wanting to make sure their daughters have the information they need, but unsure where to start.
Please check out the link below for more information.
http://thewholestory.thinkific.com/courses/WholeStoryVIP?ref=4d4c3a
If you have any questions on this please let me know. Love to hear how this resource helped in your home.
Click here for Sheila's new book The Great Sex Rescue.