Why Are More American Teenagers Than Ever Suffering From Severe Anxiety?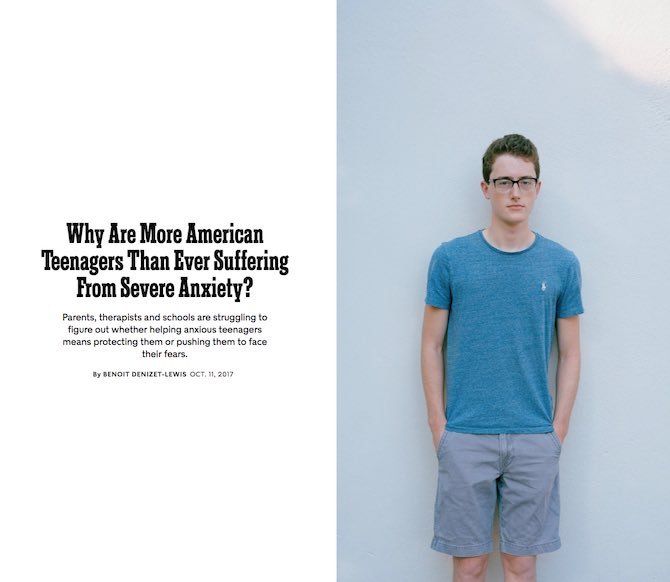 So much information in this article. I would challenge everyone to take a few minutes and walk through it.
Over the last decade, anxiety has overtaken depression as the most common reason college students seek counseling services. In its annual survey of students, the American College Health Association found a significant increase — to 62 percent in 2016 from 50 percent in 2011 — of undergraduates reporting "overwhelming anxiety" in the previous year.

Those numbers — combined with a doubling of hospital admissions for suicidal teenagers over the last 10 years, with the highest rates occurring soon after they return to school each fall — come as little surprise to high school administrators across the country, who increasingly report a glut of anxious, overwhelmed students.

Teenagers raised in more affluent communities might seemingly have less to feel anxious about. But Suniya Luthar, a professor of psychology at Arizona State University who has studied distress and resilience in both well-off and disadvantaged teenagers, has found that privileged youths are among the most emotionally distressed young people in America. "These kids are incredibly anxious and perfectionistic," she says, but there's "contempt and scorn for the idea that kids who have it all might be hurting."

For many of these young people, the biggest single stressor is that they "never get to the point where they can say, 'I've done enough, and now I can stop,' " Luthar says. "There's always one more activity, one more A.P. class, one more thing to do in order to get into a top college. Kids have a sense that they're not measuring up. The pressure is relentless and getting worse."

Anxious kids certainly existed before Instagram, but many of the parents I spoke to worried that their kids' digital habits — round-the-clock responding to texts, posting to social media, obsessively following the filtered exploits of peers — were partly to blame for their children's struggles. To my surprise, anxious teenagers tended to agree.
Click here for the entire article.