Former Evangelical Pastor Rethinks His Approach To Courtship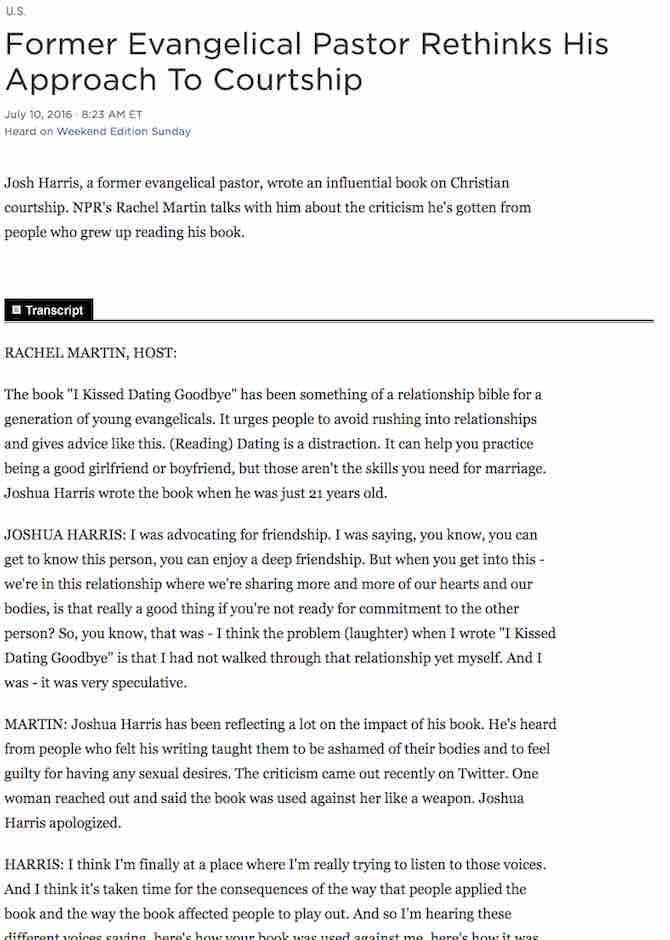 Kissed Dating Goodbye is the #1 book people talk about when I speak my dating.for.life talk. I have seen people do well with his thoughts and I have seen people take some of his thoughts way to far. I was really pleased recently to read Joshua Harris in this interview. So rare these days to find anyone willing to critically analyze their own work.
HARRIS: I think I'm finally at a place where I'm really trying to listen to those voices. And I think it's taken time for the consequences of the way that people applied the book and the way the book affected people to play out. And so I'm hearing these different voices saying, here's how your book was used against me, here's how it was forced on me, or here's how I tried to – no one forced it on me, but I tried to apply it and it had this negative consequence in different ways.

I'm trying to go back and really evaluate, you know, where did my book contribute to that? Where was it too stringent? And where was that me and what I was writing, and where was that – the families and the church cultures and so on? So I feel like I'm on the front end of a process to help people in some way if I can apologize where needed and re-evaluate where needed.

HARRIS: Well, you're exactly right. I believe that the Bible does give certain commandments and guidance and so on. I think, though, that it's really easy for Christians to take truths from God's word and principles and then in subtle and sometimes not so subtle ways add extra human regulation onto it. For example, there are clear things in statements in Scripture about our sexuality being expressed within the covenant of marriage. But that doesn't mean that dating is somehow wrong or a certain way of dating is the only way to do things.
Click here for the entire article.