Is porn immoral? That doesn't matter: It's a public health crisis.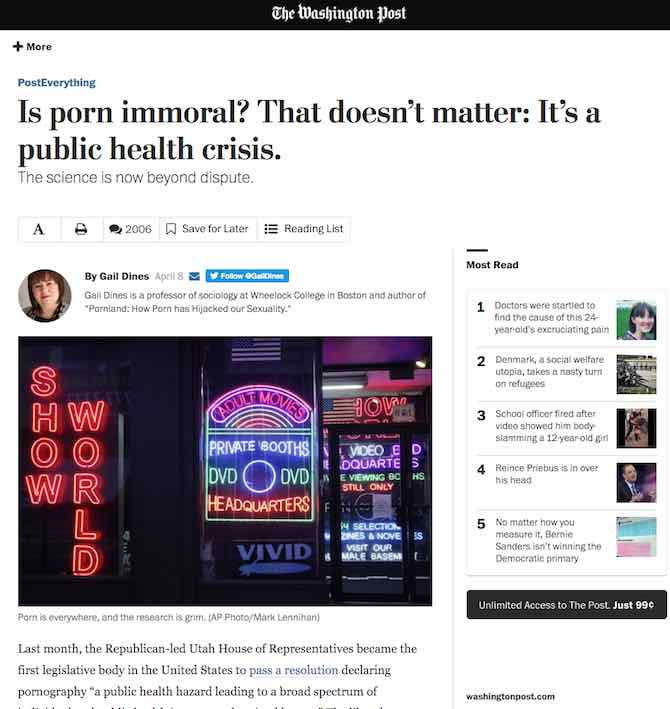 Powerful article on pornography from a mainstream source. Crazy stats and great commentary on the problems arising from pornography.
The statistics on today's porn use are staggering. A Huffington Post headline announced in 2013 that "Porn Sites Get More Visitors Each Month Than Netflix, Amazon and Twitter Combined," and one of the largest free porn sites in the world, YouPorn, streamed six times the bandwidth of Hulu in 2013. Pornhub, another major free porn site, boasted that in 2015 it received 21.2 billion visits and "streamed 75GB of data a second, which translates to enough porn to fill the storage in around 175 million 16GB iPhones.

As the evidence piles up, a coalition of academics, health professionals, educators, feminist activists and caregivers has decided that they can no longer allow the porn industry to hijack the physical and emotional well-being of our culture. This means understanding that porn is everyone's problem. Culture Reframed, an organization I founded and currently chair, is pioneering a strategy to address porn as the public health crisis of the digital age. We are developing educational programs for parents, youth and a range of professionals that aim to help shift the culture from one that normalizes a pornographic, oppression-based sexuality to one that values and promotes a sexuality rooted in healthy intimacy, mutual care and respect.
Click here for the entire article.